University on-campus dorm
All participants will be placed in a double occupancy room of our on-campus dormitory.
Each room is furnished with 2 single beds, bedding, desks, chairs, wardrobes, a phone, WiFi, and a private bathroom.
A variety of facilities are also available for students' convenience such as a laundry room, restaurant, gym, convenience store, etc.
Students don't need to bring bedding from home. Western style bed sheets aren't widely used in Korea;
However, a Korean style sheet/mat for use on the bed as well as a blanket and pillow are provided to each student.
When double rooms are full, you may be assigned to a 4-person room.
Please note that students can stay in the dorm only for the length of the program period.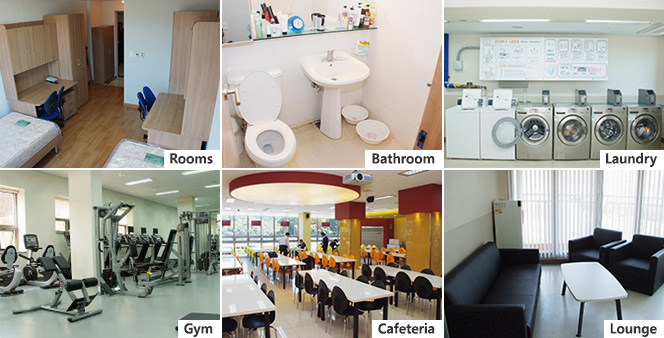 TB test results
For the safety of all residents in the dorm, it is required that participants to do a tuberculosis test (chest x-ray, skin test or blood test) and submit the results upon arrival.
The test should be taken within the 2 months prior to the dorm move-in date.
A record of vaccination for tuberculosis is NOT acceptable.
You can use any documentation provided by your health care provider.
If participants do not submit an acceptable report, they must have a test done in Korea upon arrival. (costs 20,000 won)
Expenses Guide
It is hard to estimate a budget since expenses will vary depending on personal lifestyle. But here are some examples of what things cost:
Public Transportation to Seoul
approx. 3,000won/one way
Restaurant
3,000~7,000won / 7,000~15,000won
A bottle of water
1,000won
1 liter carton of milk
2,500~4,000won
Starbucks tall size Americano
4,100won
McDonald's Big Mac set
6,400won
Bread or buns in a bakery


(Note : bread is eaten as a treat so they'll be sweet.)

2,000~5,000won
Movie at theater
9,000~11,000won
(varies depending on time/date)
Admission to a museum, temple, or palace
3,000won
Laundry (wash and dry)
3,000won