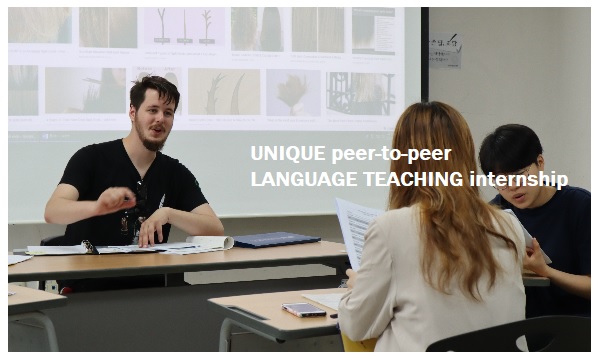 Teaching language
English / Spanish / Chinese / Japanese / German / Russian / Portuguese / French / Arabic / Mongolian
Qualifications
Fluent in speaking one of the listed languages
The GV application is only open to current undergraduate or graduate students who will attend the academic program following the GV.
Teaching hours
2.5 hours x 2 sessions x 12 days (Monday to Friday)
Morning (9:30am-12:00pm) & Afternoon (1:30pm-4:00pm)
Teaching: 5 hours per day / Total: 60 hours of teaching
Location
Classes can be on either campus depending on the language being taught
Teaching peers will be assigned randomly either at the Jukjeon or Cheonan campus
Benefits
Scholarship based on your airfare up to USD1000
Internship Certificate of Completion
Free accommodation during the GV period
Orientation
Orientation is mandatory for all participants
Participants will be given guidance on leading a lesson and an information package containing materials for class instruction, student roster, etc.
Important!!
All GV participants must attend the Academic Program afterward
If a student decides not to go onto the Academic Program after completion of the GV or fails to successfully complete the GV, the student will not receive any benefits associated with GV participation.